Brrr! We're officially deep in the throes of winter! It may be a pretty season, but it's not very nice to our skin. Icy winds and dry air can lead to chapped lips, itchy flaky skin, and dehydration. Our first instinct is to reach for the super sized bottle of body lotion… but did you know…
Our skin is our biggest organ and the one that protects us against all kinds of outside invaders (as well as keeping your insides in!). Our skin is often completely overlooked when we're considering our health. We worry so much about what goes in our bodies but don't pause to consider what goes on it. The amount of chemicals in our beauty care products is astounding and the fact that little to no regulation exists to protect us from harmful ingredients is more astounding still!
Sure, there are natural beauty products to be found, but they are often very expensive, and even their ingredients can be often suspect. In fact, in 2008 the Organic Consumers Association found that hundreds of "organic" bodycare products contained the toxic carcinogen 1,4 Dioxane, despite not being listed on the ingredient label. The USDA, who oversees organic standards for food products, does not oversee claims made on bodycare products. No one does. There is simply no regulation at all that dictates what ingredients may be used.
We've likely all used some sort of prescribed topical treatment on our skin in our lives, so in a way, we know that whatever we put on our bodies goes into it. Think of the nicotine patch… an external adhesive who's content seeps through our skin, directly into our bloodstreams. The same holds true for all things we put on our skin. But since we cannot trust the labels of most "organic" bodycare products, what are we to do?
If we use a little ingenuity, we can make our own! In addition to being very nerdy when it comes to food and nutrition, I also get quite a thrill out of being crafty! When I have the opportunity to marry these two loves (making jam for me is a marriage made in heaven!), nothing but good things happen.
My cousin came to visit me this weekend (one last hurrah being moving back to Chile), and I decided to stock her up with some homemade goodies before she goes. We trekked around the lower east side, hopping from shop to shop acquiring all the ingredients we needed to make a batch of deodorant and body lotion.
We managed, within an hour and half of coming home, to make dinner, the deodorant and the body lotion. Cleaning up was another matter. But in that short amount of time we made something that was 100% natural with ingredients that are technically all edible, totally safe, and quite nice smelling too! Plus, none of the ingredients were tested on animals!  This recipe comes from Rosemary Gladstar, a highly revered herbalist. Some of these ingredients are not cheap, but I'd rather spend a little extra on something that I know is totally safe, and doesn't have highly toxic carcinogens lurking inside. There are many books on natural, organic, homemade beauty products from shampoos and hair conditioners to toothpaste and face masks.
Recipe: Body Lotion
This is a great all purpose lotion that I'll even use on my face in the winter when a thicker cream works better for me. I scent mine using lavender and a small amount of sweet orange oil, because those are honestly the only two essential oils I have! This lotion is great to slather on right before bed… you wake up soft and silky!
Ingredients:
WATERS
2/3 cup rosewater or orange flower water)
1/3 cup aloe vera gel
1 – 2 drops essential oil of choice
Vitamins A and E as desired
OILS
3/4 cup apricot, almond or grape seed oil
1/3 cup coconut oil or cocoa butter
1/2 – 1 oz grated beeswax
Directions
1. Combine distilled water, aloe vera gel, essential oil and vitamins in a glass measuring cup. (Tap water can be used but it will sometimes introduce bacteria and encourage the growth of mold.) Set aside.
2. In a double boiler over low heat, combine remaining ingredients. Heat just enough to melt.
3. Pour oils into a blender and let cool to room temperature. The mixture should become thick, creamy, semisolid and cream colored. This cooling process can be hastened in the refrigerator, but keep an eye on it so it doesn't get too hard.
4. When cooled, turn blender on the highest speed. In a slow, thin drizzle pour the water mixture into the center vortex.
5. When most of the water mixture has been added to the oils, listen to the blender and watch the cream. When the blender coughs and chokes, and the cream looks thick and white like butter cream frosting, turn off the blender. You can slowly add more water, beating it in by hand with a spoon, but don't over beat!  The cream will thicken as it sets.
Pour into into cream or lotion jars. Store in a cool place.
This and other great recipes can be found in Rosemary Gladstar's book Herbs for Natural Beauty.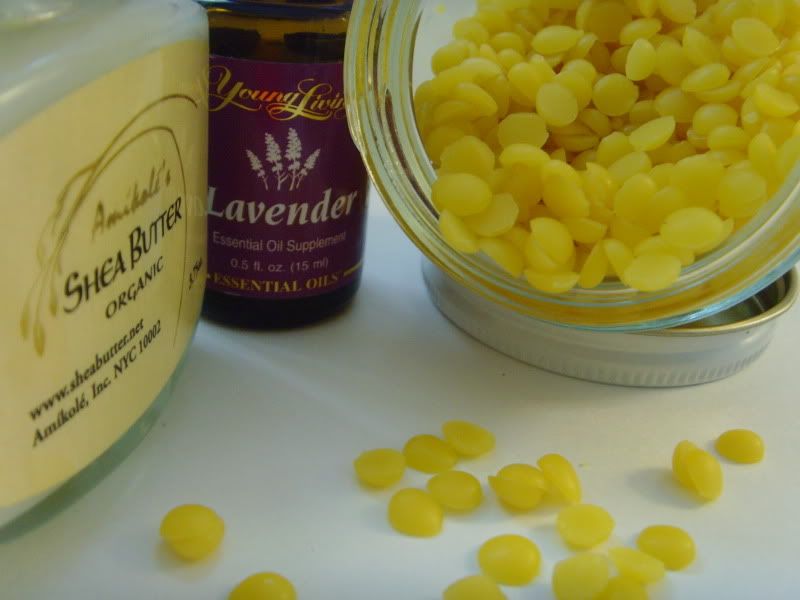 Recipe: Homemade Deodorant
Now I've never been an exceptionally smelly person, but certain deodorants just don't work for me period. This is by far the best BEST thing I've ever used. Not only do I NEVER smell bad ever, I smell great! AND, as if that wasn't enough, I've been rocking and rolling on the same two ounce jar I made last christmas and still have a little left over. You can't beat that for money saving! Plus, this uses mostly inexpensive ingredients (except the shea butter, which can be pretty steep). Double bonus. I will say that this has never stained my clothes, or left those icky yellow patches on my t-shirts. This isn't an antiperspirant, so don't expect dry pits or anything. You'll still sweat, but you'll smell nice doing it!
Ingredients:
3 tablespoons shea butter
3 tablespoons baking soda
2 tablespoons corn starch
2 tablespoons cocoa butter
2 vitamin E gel caps (or about 8 drops)
a few drops of essential oil (optional – for fragrance)
Directions:
In a glass bowl set over a small pot of simmering water place the shea butter and cocoa butter. Heat until just melted and then remove from the heat. Add the vit E and any essential oils and stir to combine. Mix together the baking soda and corn starch and add to the melted butters. Mix thoroughly and pour into a small jar to set. That's it!
It will take a few hours, depending on the temperature of your room, for this to set fully. To use it, scoop out a small amount of the paste (I use about half a pea sized amount) and apply it to your underarms. The heat of your skin will melt the butters, and make application smooth and easy. It absorbs into your skin pretty quickly so you don't have to worry about having oily underarms ruining your clothes 🙂